Water Conservation Rebates and Programs for Arroyo Grande Residents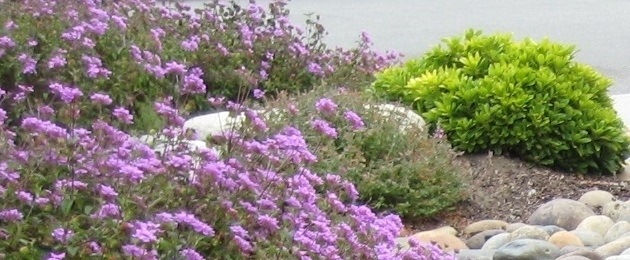 Each year, over 50% of the city of Arroyo Grande's water is used for landscaping, with most of this water being used in the five months between May and September. To help offset the significant stress placed on our limited water resources, the City offers the following programs:
Cash for Grass Rebate Program -- Funds for the Cash for Grass Rebate Program have all been allocated for 2022 and the City is not currently accepting applications. When the program reopens, an announcement will be made.
Water Efficient Washing Machine Rebate Program -- The City of Arroyo Grande is offering a $200 rebate for water customers who purchase a water efficient washing machine. The property receiving the rebate must be a water customer of the City of Arroyo Grande. The applicant must also provide a legible copy of a dated sales receipt for purchase of the washing machine. Public Works staff will need to inspect the installation and model of the washing machine in order to process the rebate.
Stage 1 Water Shortage Emergency
The Arroyo Grande City Council unanimously declared a Stage 1 Water Shortage Emergency on October 12, 2021. A Stage 1 emergency was declared as a result of the ongoing severe drought conditions, low Lopez Reservoir levels and resulting reductions in deliveries of water from Lopez Lake. In addition, reduced groundwater levels are a continuing concern causing a reduction in groundwater pumping. These conditions contributed to the need for mandatory water use restrictions and the adoption of a Stage 1 Emergency.
This action will require all customers to reduce water usage by a certain percentage compared to the same billing period in 2020, referred to as the baseline. Customers will be notified of their baseline via letter on or before December 1, 2021. Warning letters will begin being sent with the February and March 2022 billing.
Residential customers will be required to reduce consumption by a certain percentage based upon their billing tier: Tier 1 customers with bi-monthly usage of 0 – 9 units will not be required to reduce consumption, but cannot increase usage above their assigned baseline; Tier 2 customers with bi-monthly usage of 10 – 18 units will be required to reduce consumption by 7%; and Tier 3 customers with bi-monthly usage of 19 units or more will need to reduce usage by 14%. This structure allows residents to choose how to utilize their water rather than mandate specifically how reductions are achieved. Commercial/Institutional customers with separate irrigation meter accounts will have to reduce water use by 25%.
Mandatory financial penalties will be levied on all water users who fail to reduce consumption in the percentages required, starting with a written notice of violation and increasing incrementally to a $200 fine. There will be an option to attend 'Water School' in lieu of paying the first financial penalty of $50. This option is only available once for the $50 fee, whereas additional financial penalties must be paid in full.
Declaration of a Stage 1 Water Shortage Emergency and the required reductions in water use will help preserve the limited water supply resources available to the City. Based on the current conditions and concerns regarding the anticipated prolonged drought, the City Council is implementing reductions in water usage which are necessary and appropriate to protect the health, safety and welfare of the public of the City of Arroyo Grande.
For more information about the City's water conservation programs and incentives, please visit www.arroyogrande.org.
Plumbing Retrofit Program
The City's Plumbing Retrofit Program includes installation or adjustment of showerheads, toilets, faucet aerators, and pressure regulators for single-family and multi-family residential units constructed prior to 1992. For more information about this program, please call 805-473-5460.
Water Wise Landscaping Program

Check out the Central Coast's new interactive Water Wise Landscaping website for everything you need to design a beautiful drought-tolerant landscape.
Visit our water conservation FAQ page to get answers to some of the most commonly asked questions about water usage and conservation.
Want to find out what more you can do to help your Arroyo Grande community?
Arroyo Grande Residents call (805) 473-5460
Or contact us here.